Interview of the Head of the Board of "UFE" Anar Rafiyev to journalist of the Turkish channel TV5 Kazim Kazimov.
23 June 2022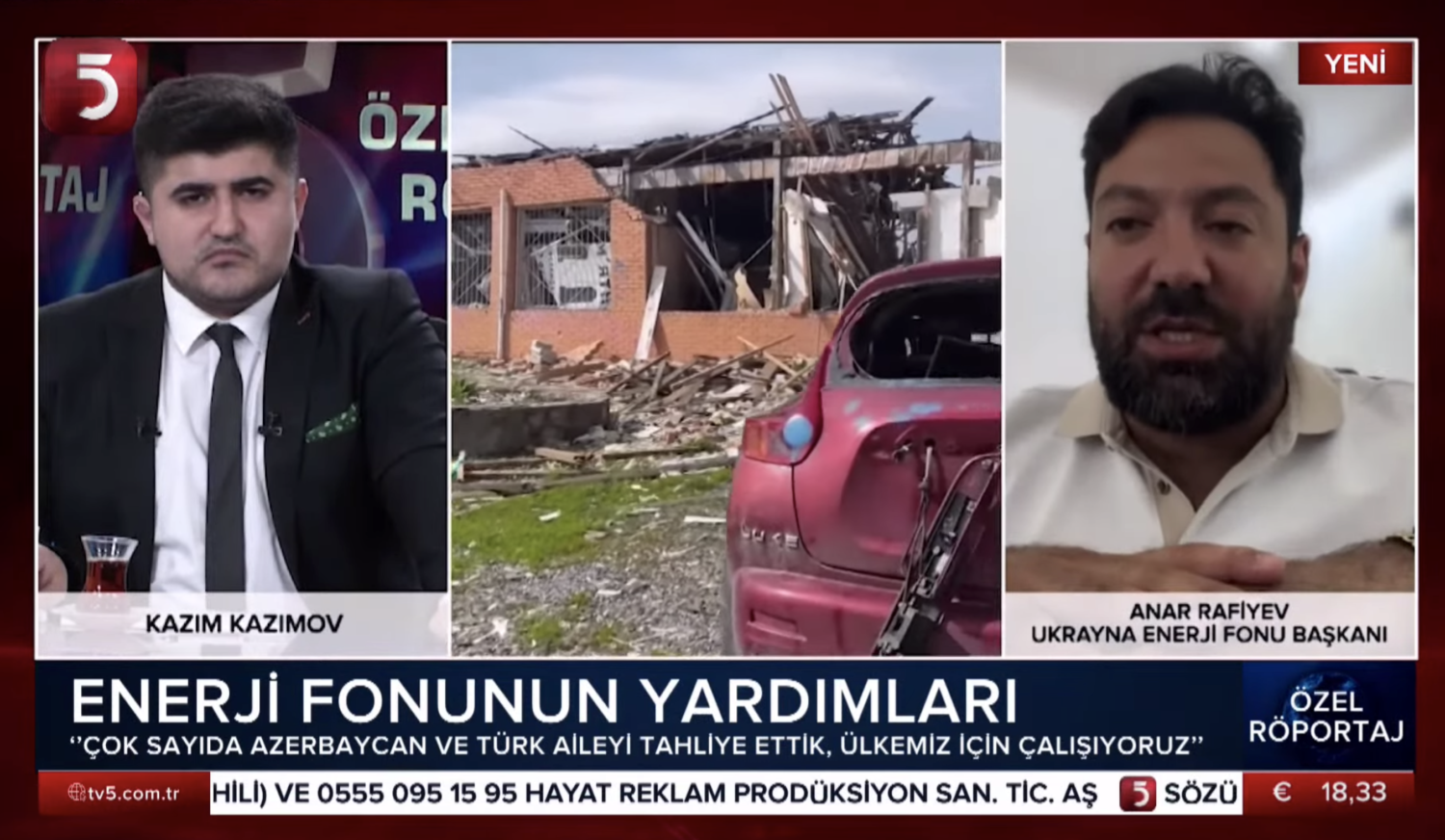 – Why do you think Russia attacked Ukraine?
– On the one hand, in geopolitics, Russia wants to have a land corridor to the Crimea, and on the other hand, the ambitious position of the Russian government.
– The Russian side claims that there are neo-fascists in Ukraine. Do you live in Ukraine, have you met neo-fascist mercenaries, or is it nonsense?
– Until February 24, I did not understand what neo-Nazism is. But then I listened to the leadership of the Russian occupiers – in their understanding, a neo-fascist is a person who is ready to defend his homeland, his land, and his home. Is there fascism in the sense that the Russian media means – no. I have never met a single Nazi here in Ukraine. I myself am an Azerbaijani, a citizen of Azerbaijan, not a Slav. I did not feel that my rights were being violated. Our company employs the majority of Ukrainians, 2-3 Azerbaijanis, and we work normally. We are listened to, understood, respected, and here is a very comfortable country. Ukraine is an international country like Azerbaijan and like Turkey. Many people can live peacefully together here, but the Russian world does not perceive this.
– We know that you are a survivor of the first and second Karabakh wars, how do you assess the humanitarian situation in Ukraine?
– The humanitarian situation can be divided into several positions. There is a critical infrastructure part that is in a terrible state. Problems with logistics: ports do not work, and previously available routes for the delivery of products are blocked, for example, from Belarus. Cargoes from Azerbaijan and other countries used to go through the territory of Russia. Critical infrastructure has been completely destroyed. Ukraine copes quite well with food. However, if there are no problems with the products now, then the oil products necessary for the agricultural industry are critically lacking. As an example: today it is impossible to refuel more than 20 liters of fuel into one car, not to mention the refueling of agricultural machinery and goods necessary for setting up one's own production. A huge problem is connected with the fact that before the war, Ukraine did not produce many goods, but only bought them. Import flow is now possible from three sides: Moldova, Poland, and Romania. Moldova itself is in a difficult position, so Romania and Poland remain, and the logistics with them are complicated and unprofitable.
– To the question of logistics. Has Russia blocked the Black Sea or not?
– Russia completely blocked the Black Sea. Not only with ships, but also mined all sea approaches. Ukraine is trying to negotiate with the help of the world community, in particular Turkey and Mr. Erdogan, on a safe corridor. However, there is a physical threat of mining the entire Black Sea, which will take months to clear. Therefore, the problem with ports is big and for a long time.
– We know that you are the Head of the Energy Efficiency Fund and your fund is now engaged in humanitarian assistance. What is your fund doing in this direction?
– Our fund is called Publik Association "Ukrainian Fund for Energy Efficiency and Energy Saving". Before the war, we were engaged in thermoregulation and energy-saving projects carried out with the help of public money, external loans, and grants. But since the war started in Ukraine and I love this country, this country has become my second home, I stayed with the Ukrainians. I decided to fulfill my duty by helping Ukrainians, Azerbaijanis, Turks, and citizens of other countries who ended up on the territory of Ukraine so that people would not disappear in the chaos of the war.
To date, the PU has become a partner of UNICEF, we have delivered about 900 tons of humanitarian aid; became partners of the Ministry of Digital Transformation Ukraine and SpaceX. We delivered 50 Starlinks to all hot spots where there is no connection, among them: Irpin, Bucha, Gostomel, Mykolaiv, and Chernihiv. Together with the embassies of Azerbaijan and Turkey, we evacuated many citizens of these countries, as well as citizens of Georgia, to their homeland. We created a distribution center in Kolomyia, where foreign citizens were transported in the first days of the war. Then our volunteers helped them with further evacuation: communication with embassies and crossing the border. We collected about 14 million hryvnias and transferred these funds to the Ministry of Defense of Ukraine. We provide all other humanitarian assistance exclusively at our own expense without attracting "donations" and other charitable financial injections. We are trying to use personal funds as much as possible so that the money that could be raised goes to other targeted assistance to Ukraine. In addition, together with the international organization ERSI, we have created a geographic information system, a GIS software application, into which we now enter data on the destruction as a result of Russian aggression in the cities: of Makarov, Fastov, Irpen, Bucha, Gostomel, Mykolaiv, Kharkiv, Chernihiv. After assessing the damage, we develop plans for the restoration and reconstruction of the destroyed facilities.
– You are a professional power engineer. And you know that Ukraine is a transit country and Russia has "big cards" – oil and gas. Putin said that because of the war, Europe's access to these resources is blocked. Do you think this war will cause a major energy crisis in the world?
– I believe that the logistical and commercial rules that were in the world before February 24 have already changed. Priorities in the oil and gas industry will also change. Yes, this is a very big lever of influence, especially on countries unfriendly to Ukraine. But even before the war, my partners and I were solving the problem of reducing Ukraine's dependence on Russia's energy resources as the closest supplier. For better or worse, we prepared as best we could. And this process will continue. The whole world is rebuilding the economy to get rid of Russian energy dependence. For example – the Netherlands and other European countries fundamentally refused to pay for energy resources in Russian rubles. I think the world order will change. He is already changing. Now we are altogether forming a new order, new rules of the game, new business rules, and new alternatives. The alternative is not to find another supplier, but to start consuming less. Oil and gas are good, but thanks to the technologies of alternative sources, it is possible to build structures that consume energy resources meagerly. And we are already doing this – Ukraine is very rich in minds, it is a very intellectual state and the best engineers are gathered here.
– The Russian Defense Minister said that they would capture Kyiv, Lviv, and other cities. But it doesn't happen. Because the Ukrainian defenders are strong or the Russian army is weak?
– This is a very interesting question. I thought about this for a long time and could not understand why the second army of the world turned out to be so fake. But it is so. To this, we can add real patriotism and the desire of the Ukrainian army not to give up. These two factors showed that Russia had already lost. For the first time since independence, the President and leadership appeared in the country, who decided not to negotiate with the aggressor, but to put him in his place. And the Ukrainians get it. The Russian invaders understood that Kyiv and other cities are too tough for them, they cannot lead several fronts at the same time. After that, Russia revised its strategy and the troops withdrew from Kyiv, Chernihiv, and partly from Kharkiv.
– Do you think "Strong Russia" was a myth?
– I think that this is the biggest fake that we have been fed for 30 years. Even the rhetoric of Russian journalists has changed. Now they say: "We are facing the biggest army in Europe." Although before that it was: "We will conquer everyone in three days and even get to Poland." The Russian army is not so strong and equipped. They don't have motivation.
– Last question. How to stop the war?
– The most realistic and correct way is for the Russian people to understand that the war with Ukraine is not good for them either. Nothing has changed in Russia in 30 years. Complete re-election of the leadership, impeachment, or another way to change power is the most peaceful way to end this war and improve relations between the two countries.
In the example of Azerbaijan and Armenia – there is a neighbor and you must establish peaceful coexistence with him on the basis of partnership and mutual understanding. Regardless of which side is stronger, there is a world order, the territorial integrity of countries, and the rights of people. Russia and its people must want to become a properly democratic country.
– Mr. Anar, thank you for a very useful interview.
– Thank you very much too. As an Azerbaijani and a resident of Ukraine, I thank the Turkish people for their help and great support of Ukraine.
A full version of the interview is at the link.