Energy efficiency and energy savings. How does it work thanks to innovative technologies?
26 September 2022
Improve the quality of life, save the environment, and save money. You can cite a whole series of arguments with the "+" sign that motivated the team of the public uniоn «Ukrainian Fund of Energy Efficiency and Energy Saving» to move towards the study of the energy sector and its modernization in Ukraine and the world.
All these discussions about frugality and efficiency can be summed up in a short but voluminous phrase – "This is our future!" But we sincerely want to share the details and grandiose plans with you. Because energy efficiency and energy saving are our joint independence.  And it is directly related to technologies and the implementation of innovative methods and tools in everyday life.
Starting at least with your cozy kitchen, for which you will choose a brand new refrigerator. The energy consumption of two externally identical models with the same functionality can differ significantly. By choosing a more efficient one, you will save a certain amount of energy every year as long as this refrigerator serves your family. However, often the problem of energy saving simply cannot be solved by the efforts of one person, because there are certain decisions that are not made and agreed upon by you.
So, for example, the heating of the apartment is provided centrally from the heating network. These extensive systems in Ukraine are frankly worn out to such an extent that they often appear in anecdotes. And as if it is not a secret for anyone that they need replacement and reconstruction. But for this, a number of services and a lot of money should be involved. However, "all efforts will be in vain without an innovative approach," the UFEES team noted.
Anar Rafiyev, president of the public union «Ukrainian Fund of Energy Efficiency and Energy Saving» and head of the supervisory board:

"We are renewing ourselves, the country, and the world globally. And that is why a specialized Research and Development (R&D) unit operates as part of the public union "Ukrainian Fund for Energy Efficiency and Energy Saving". It was created for the study and implementation of innovative technologies, including energy-saving ones. The goal is to make Ukraine's economy as independent as possible from imported resources and, first of all, Russian energy resources"
Primarily, the conclusions and implementation of all planned and already working projects are based on the energy audit. It defines the problems and the possibility of implementing specific solutions. In Europe, the following classification of buildings is adopted, which is also used in Ukraine, to assess the energy efficiency of buildings when determining further steps in normalizing their levels:
old buildings built before the 1970s (in Ukraine until 2007) and require about 300 kWh/m2 for heating and cooling;

new buildings constructed in Europe from the 1970s to 2002 (in Ukraine until 2016) – 150 kWh/m2;

buildings with low energy consumption (since 2002, the construction of buildings with high energy consumption has not been allowed in Europe) – 60 kWh/m2;

passive buildings (according to the law passed in 2019 in Europe, it is not possible to build buildings according to standards lower than a passive house) – 15 kWh/m2;

zero-energy buildings (architecturally, they have the same standards as passive buildings, but they are engineered to consume only the energy they produce themselves) – 0 kWh/m2 ;

buildings plus energy, which with the help of engineering equipment installed on them – solar batteries, collectors, heat pumps, recuperators, and others – produce more energy than they consume.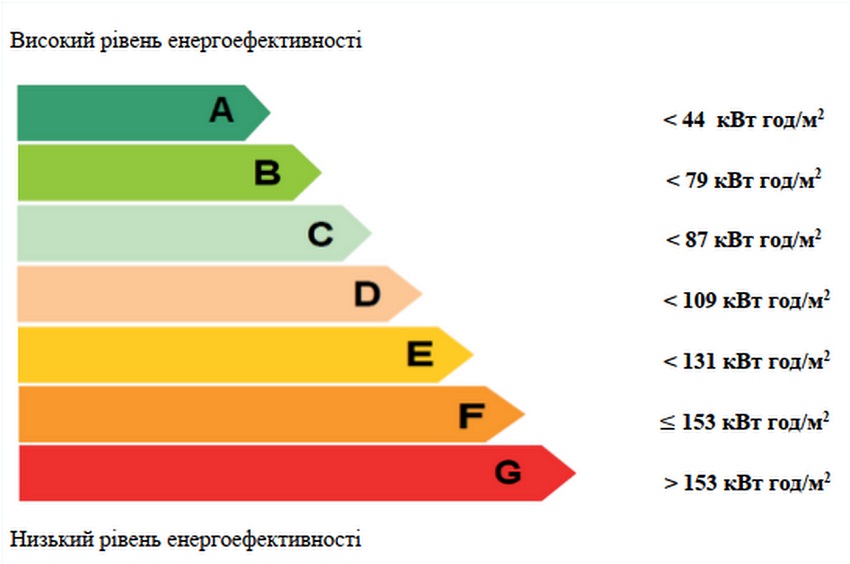 Insulation of buildings
In Ukraine, there are more than one hundred thousand budget institutions, built according to old standards and needing immediate thermal modernization. The number of residential infrastructures significantly exceeds these scales. Currently working in cooperation with relevant ministries and communities affected by Russia's large-scale invasion of Ukraine, and filling the database of destroyed and damaged buildings in the GIS portal ONOVA, a team of innovators develops and implements individual architectural solutions. Each of these improves the restoration facility and necessarily makes it energy efficient.
One of the approaches to energy saving is the insulation of building facades with a modern heat-saving and at the same time ecological coating. Savings in thermal energy consumption thanks to the insulation of the facade will be approximately 40%. Therefore, it is already worth attracting investors and joining forces in the reconstruction and renewal of the country.
Yehor Stefanovych, head of the board of the public union «Ukrainian Fund of Energy Efficiency and Energy Saving»

"Today, humanity is at a certain crossroads, when at the same time we have a large burden of the past, but we already have the necessary technologies and innovative tools to make housing and infrastructure more efficient and, accordingly, our lives more economical and convenient. Specialists of our Research and Development center operate with all available and modern knowledge and methods and have already successfully implemented them in Ukraine. I am sure that soon we will be able to make a revolutionary transformation of the objects of the old fund and fundamentally change the approach to the construction of a new one. Together, we will renew Ukraine, make housing, industry, and critical infrastructure energy-efficient and energy-saving, and will definitely set trends and be an example for other countries."
Space heating
However, a large part of buildings in Ukraine has very low energy efficiency. After all, this fund is mostly old buildings. Their heating becomes more and more energy-intensive and therefore more expensive. Imperfections and wear and tear of heating networks often lead to a lack of fuel, and economic or technical problems make it difficult to maintain a comfortable temperature.
The problem of energy saving is not only how to deliver enough heat with minimal losses. It is important to keep this heat. Heat losses through the walls, according to various experts' estimates, account for 10-30% of all heat losses in an apartment and 30-50% of all losses in a house. Therefore, thermal insulation of the walls and roof will reduce heat loss, and the costs for this will be compensated by energy savings.
So, we already know a lot of ways to prevent heat loss in the living room. In new houses, it is possible to significantly reduce heating needs. The main rule is the use of insulation, which will block excessive heat leakage. In addition, it is necessary to avoid drafts.
Heat loss can be reduced by 30-60% with the help of window insulation.

Glass with thermal protection coating or a second window with single-layer glass reduces heat loss by 20-30%.

A window with double glass and with a heat-protective coating – by 40-50%.

A window with triple glazing and heat-protective coating – by 65%.
Use of alternative energy sources
One of the urgent topics and implementation strategies in Ukraine and around the world is alternative energy sources and the general modernization of energy in this direction. US President Joe Biden paid attention to this issue during his speech at the 77th session of the UN General Assembly: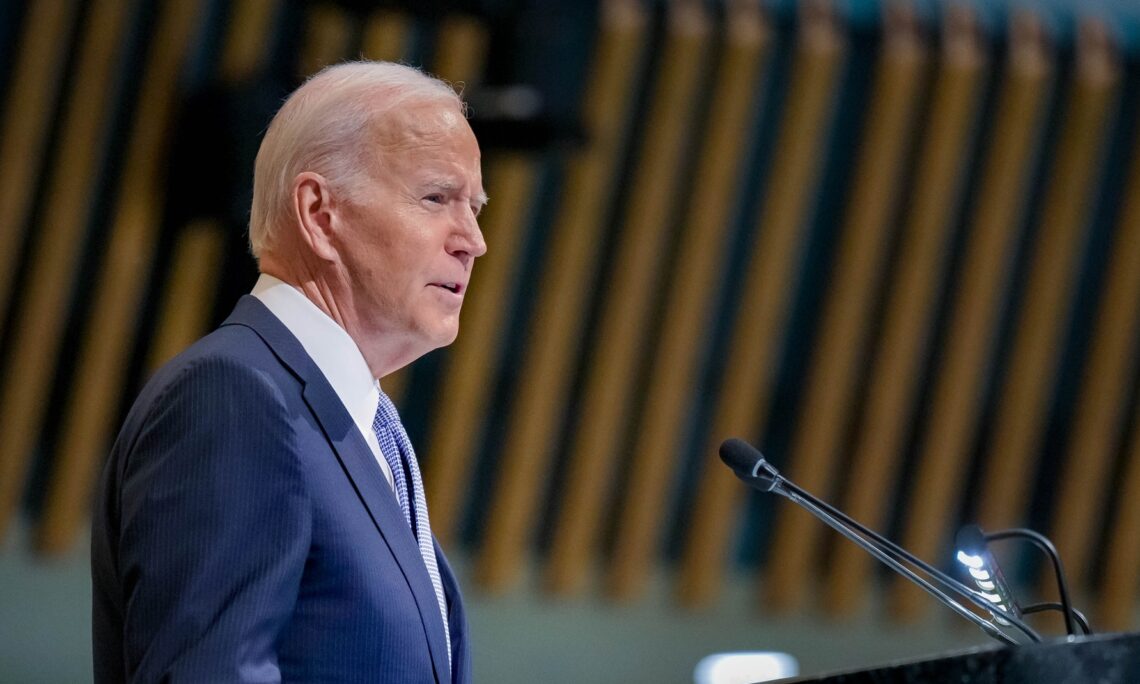 Photo: US Embassy in Ukraine
"My administration is working with our Congress to provide more than $11 billion in international climate finance to help low-income countries meet their climate goals and ensure a just energy transition. This need is huge. So let this be the moment we find the will to turn back the tide of the devastation caused by climate change and unleash the potential of sustainable and sustainable 'clean' energy to save our planet."
"Ukraine will definitely move towards energy independence. After all, nowadays it is simultaneously a matter of national security!" This was emphasized by the Minister of Energy of Ukraine Herman Galushchenko during a visit to the United States of America and a meeting with the Minister of Energy of the United States Jennifer Grenholm:
"The transition to clean energy is important, because it means independence for countries, in this case – from Russia. Many countries have revised their energy strategies due to the current crisis. Yes, there are opinions that wind and solar energy are unstable. Instead, there is allegedly "stable" Russian coal and gas. But Russia does as it pleases, and this completely contradicts the idea of ​​stability. It stopped the supply of gas to Europe in order to artificially raise prices. One country can influence prices all over the world. All because the world once allowed her to do it"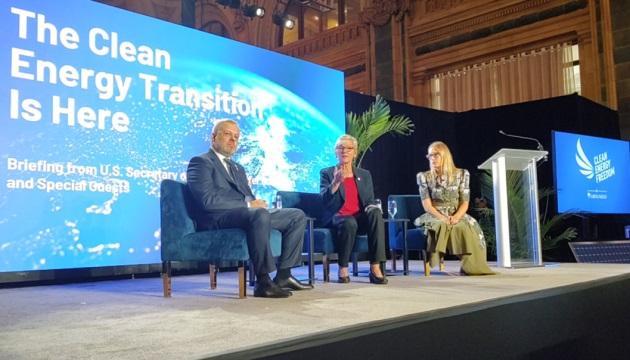 Photo: Ukrinform
Independence begins with each of us. There are many ways to save energy. Each of us can save energy almost everywhere. After all, it does not require additional costs and depends exclusively on our behavior. However, the global restructuring of energy efficiency of Ukraine and the world requires investments. The projects of the "Ukrainian Fund for Energy Efficiency and Energy Saving" unite the public, state and financial institutions, contractors and investors, and mass media for the sake of an independent future for Ukraine.
We save energy today – we feel the benefits already tomorrow!
The information is partially taken from official sources:
Ministry of Development of Communities and Territories of Ukraine
Ministry of Energy of Ukraine
US Embassy in Ukraine